The Winner Effect: the neuroscience of success and failure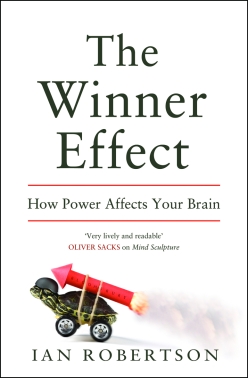 Published by Bloomsbury
Reviews of The Winner Effect
'…. he tells a compelling, vivid and instructive story of how we are empowered and how we are disempowered and how we succeed and how we fail – I really enjoyed it – it is a must read.'
PROFESSOR RAYMOND TALLIS , Author of 'Aping Mankind: Neuromania, Darwinitis and the Misrepresentation of Humanity'
'Utterly fascinating'
PUBLISHER'S WEEKLY 2nd July 2012.
BBC Radio 4 Today Programme 4th June 2012.
".. fascinating….he also has an attractive anti-determinism in his approach, because of his belief that our basic behaviour patterns are eminently changeable, not just by events but also, if we try to understand, by ourselves: the approach one would expect from a clinical psychologist.'
DOMINIC LAWSON, Sunday Times Columnist and former Editor, the Spectator, Sunday Times Book Reviews, 27th May 2012.
'Compelling stories combine with cutting-edge science to show why coming first is not the same as being a real winner – engrossing'
OLIVER JAMES, AUTHOR OF AFFLUENZA
'A fascinating topic dealt with in a fascinating way .. I love the book.'
MATT COOPER, SUNDAY TIMES POLITICAL COLUMNIST, FORMER EDITOR OF THE SUNDAY TRIBUNE, BROADCASTER, AUTHOR OF How Ireland Really Went Bust (2011)
TODAY FM THE LAST WORD TUESDAY 12TH JUNE 2012
'A timely read for medal season – or if you still can't fathom your high-achieving sister'
Sunday Times Style. 15th July 2012.
'His book engagingly relates the nuances of why and how we win, and the pitfalls of getting juiced up on dopamine in extreme success and hungering for adulation and worship'
CLAIRE O'CONNELL, IRISH TIMES, 18TH JUNE 2012
320 pages | 234 x 153 x 31 mm | 978-1250001672 | October 7, 2012