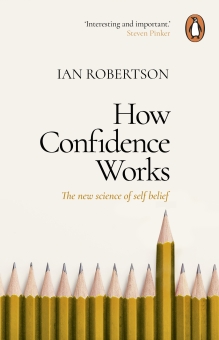 'A brilliant and thought-provoking book - it will change how you think about confidence'

Johann Hari, author of Lost Connections and Chasing the Scream

'There are some books that I have to replace regularly on my shelf because they are given away again and again at a moment of relevance for the athletes and leaders I work with. 'How confidence works' will undoubtedly be one of them. It is made for sharing - rich with stories and change-inspiring examples for every kind of performer.'

Pippa Grange, Psychologist to the England national soccer team.

'A revelatory and practical new exploration of the science of confidence, which is important for everyone but crucial for women.'

Mary Robinson, former President of Ireland

'Interesting and Important'

Steven Pinker, Harvard University, author of How the Mind Works and Rationality.


Why do boys instinctively talk bull more than girls? How do economic recessions shape a generation's confidence? Can we have too much confidence and, if so, what are the consequences? Imagine we could discover something that could make us richer, healthier, longer-living, smarter, kinder, happier, more motivated and more innovative.

Ridiculous, you might say... What is this elixir? Confidence. If you have confidence, it can empower you to reach heights you never thought possible. But if you don't, it can have a devastating effect on your future. Confidence lies at the core of what makes things happen.

Listen to me discussing the book with Hugo Rifkind on Times Radio ........ here

I discuss confidence - what it is and how it works, with Karl Henry below:




I had a great discussion about sex differences in confidence in this linkedin live discussion - the comments from people all over the world are fascinating. Below is a youtube version of the discussion without the comments.




What makes a confident leader? Listen to my podcast with the Association of Business Psychologists.

If your confidence is fading and you are feeling jaded or fatigued, you might find the tips I give in this interview helpful.

Probing the science and neuroscience behind confidence that has emerged over the last decade, clinical psychologist and neuroscientist Professor Ian Robertson tells us how confidence plays out in our minds, our brains and indeed our bodies. He explains where it comes from and how it spreads - with extraordinary economic and political consequences. And why it's not necessarily something you are born with, but something that can be learned
I am a cognitive neuroscientist as well as a writer. Below are a few of my most recent papers from this year on topics ranging from improving memory through brain stimulation to the effects of how we breathe on our brain function, to the measurement of brain age using MRI imaging. My research has shown how we have much more control over our brain function than we realise and can alter the structure, function and chemistry of our brains through our behaviour, our breathing and our thinking.

Here is a recent interview I did with Josh Balsters of Gorilla about my research on sustained attention.


Vanneste S, Mohan A, Yoo HB, Huang Y, Luckey AM, McLeod SL, Robertson, IH et al. The peripheral effect of direct current stimulation on brain circuits involving memory. Science Advances. 2020;6(45):eaax9538.
Boyle, R., Jollans, L., Rueda-Delgado, L. M., Rizzo, R., Yener, G. G., McMorrow, J. P., Robertson, IH... & Stern, Y. (2020). Brain-predicted age difference score is related to specific cognitive functions: A multi-site replication analysis. Brain Imaging and Behavior, 1-19.

Melnychuk, MC, Murphy PR, Robertson IH et al (2020) Prediction of attentional focus from respiration with simple feed-forward and time delay neural networks. Neural Computing and Applications, 1-10.

Luckey AM, McLeod SL, Robertson IH, To WT, Vanneste S. Greater Occipital Nerve Stimulation Boosts Associative Memory in Older Individuals: A Randomized Trial. Neurorehabilitation and Neural Repair. 2020:1545968320943573.

Smith E, Ali D, Wilkerson B, Dawson WD, Sobowale K, Reynolds C, Robertson IH et al. A Brain Capital Grand Strategy: toward economic reimagination. Molecular Psychiatry. 2020.